Cat Shows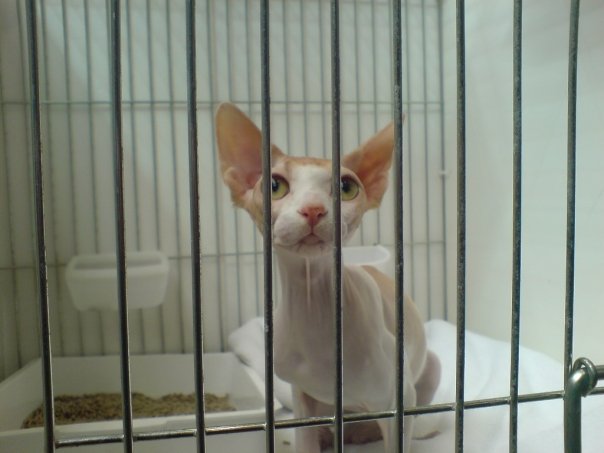 Many people don't realise there are cat shows in Ireland or imagine them to be very different to what actually takes place.
An entry form with your cat's details must be sent in advance to the show organisers along with the fee. Cats are then grouped into specific classes to be judged against similar cats. On the day of the show all cats are checked over by a vet before going into the show hall to make sure they are not displaying any signs of illness. There are rows of pens in the hall and each cat has it's own pen. The owner brings along a white litter tray, white blanket, white food and water bowls and usually some white vet bed to line the bottom of the pen. This is to help preserve anonymity -the judges must not know who owns the cats they are judging.
Everyone leaves the show hall during the judging - a great chance for a show day breakfast with other exhibitors! Exhibitors allowed back in usually around midday to one pm. Members of the public may also pay and enter the show at around this time. Chatting to the public about your cat is usually one of the high spots of the day. The cats are only removed from their pens to be judged and the public must not touch or handle the cats without the owner's express permission. Some cats love the attention and so you may see owners taking their cat out of the pen for visitors to get to know them a bit better. At some point in the afternoon, results are put up on a notice board and you get to see how your cat has done. As the show is winding down, the creme de la creme of the cats present are selected for Best of Variety and Best in Show awards.
The Irish cat fancy is small and friendly so new exhibitors quickly get to know people. If you are a cat lover it is brilliant to spend a day talking to like minded people and swapping tips and stories. There is nothing like the subject of cat litter to spark off an enthusiastic discussion at a cat show! It is also lovely to wander round and see all the other cats present and learn more about other breeds.
It can be a bit confusing to start with but most exhibitors will help novices understand what is going on. We are always looking for new faces and competition at the shows and so cat clubs are always willing to help new exhibitors get to grips with the entry form and what to do on the day. Household pet cats can be entered as well as pedigree cats and that is a great way to try out showing. If you would like to find out more about showing your cat, feel free to send us an email - as I said, we really do want to see more people giving cat showing a go!