Kitten Information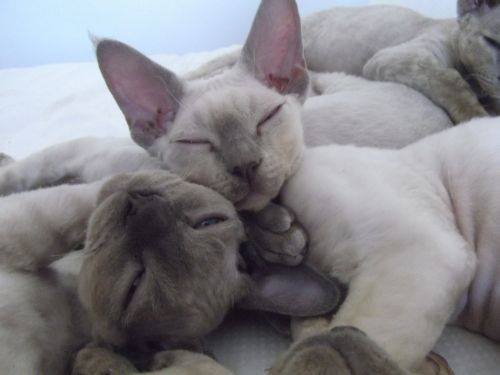 DaddyO kittens will be born in our bedroom (usually on the bed, with both of us acting as midwives!), before moving into the living room when they are old enough. Being in the centre of things mean they will be well socialised, used to household noises and events, visitors and lots of attention and cuddles! Like a lot of breeders, we do use a kitten pen in the first few weeks to keep them safe and stop the mother moving her babies into dangerous spots. Our aim is to send a healthy, happy, well adjusted kitten to delight it's new family. We put a lot of work and love into our kittens and it is very important to us to know they are going to a loving home that has realistic expectations of their Devon Rex kitten.
Kitten adopters will get regular pictures and updates as the litter grows. Once the kittens are old enough for visitors, potential adopters are encouraged to visit us and meet the babies (and our adults of course!). Kittens will go to their new home with their vaccination course completed, neutered or spayed, microchipped, registered with the GCCFI (Governing Council of the Cat Fancy of Ireland), with samples of their usual food and litter, toys and a blanket that smells of familiar things to help them settle.
For all cats across the world, behavioural problems is the number one source of friction in their new home, particularly litter tray issues. As we spent time helping with the rehoming of rescue cats and kittens, we have had quite a lot of experience of helping new families tackle behavioural issues with their cat or kitten and know a lot of tips and methods to try and resolve common problems as well as how to try and work out the root cause of the problem. Obviously we do not claim to be miracle workers with an answer for everything but we do feel that anyone buying a DaddyO kitten can be confident of hopefully useful life long support and back up. We also have lots of experience in introducing a cat or kitten into a home with existing pets. We have taken back adult cats we bred for a period of several months to facilitate their owners, when needed and will do anything we can to support our kitten owners through out the life time of their DaddyO cat.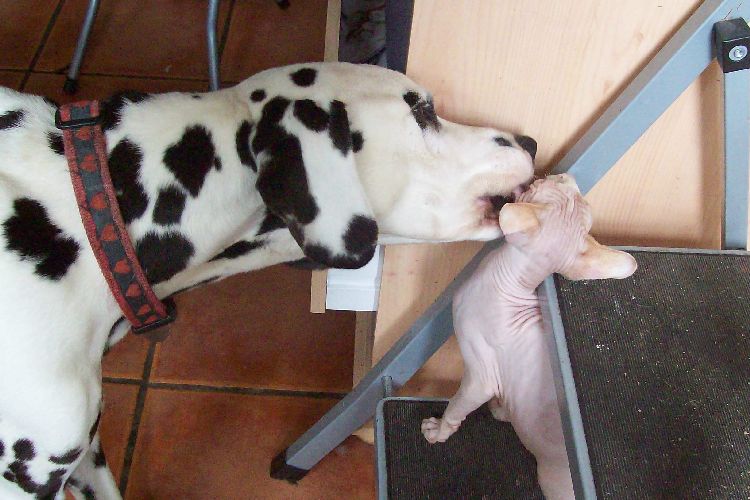 The cost of a kitten reflects all the expenses a breeder encounters - extra costs to buy a cat with breeding permissions, heart scans for HCM, blood group tests, blood tests for disease prior to mating, stud fees, travel and show entry fees (showing cats is one way for a breeder to check that the kittens they are breeding are of a good standard and offer something to the breed), top quality food and vet care for the pregnant cat, kitten food, toys, litter, vet treatment for any struggling kittens or any difficulties during or after the birth, vaccinations, worming, neutering and spaying for each kitten and so on.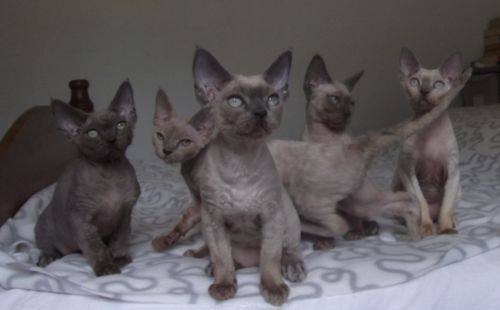 Initially, it can seem like cat breeders must be making a nice profit as the kitten buyer hands over the cost of the kitten but this is rarely the case. Breeding cats to the high standard most registered breeders apply is a loss making hobby - any profits that might possibly be made on the sale of a kitten is always very quickly sucked up by the next set of expenses. Inland Revenue has investigated some cat breeders in Britain to see if they should be paying tax on their breeding 'profits' and in each case, it has been agreed that there are no profits to speak of! Cat breeders do this for the love of a particular breed and their individual cats - if you don't get the impression that a breeder you are talking to loves their breeding cats deeply and knows their personalities inside out and does their best to keep them contented and in peak condition - find another breeder.